154
---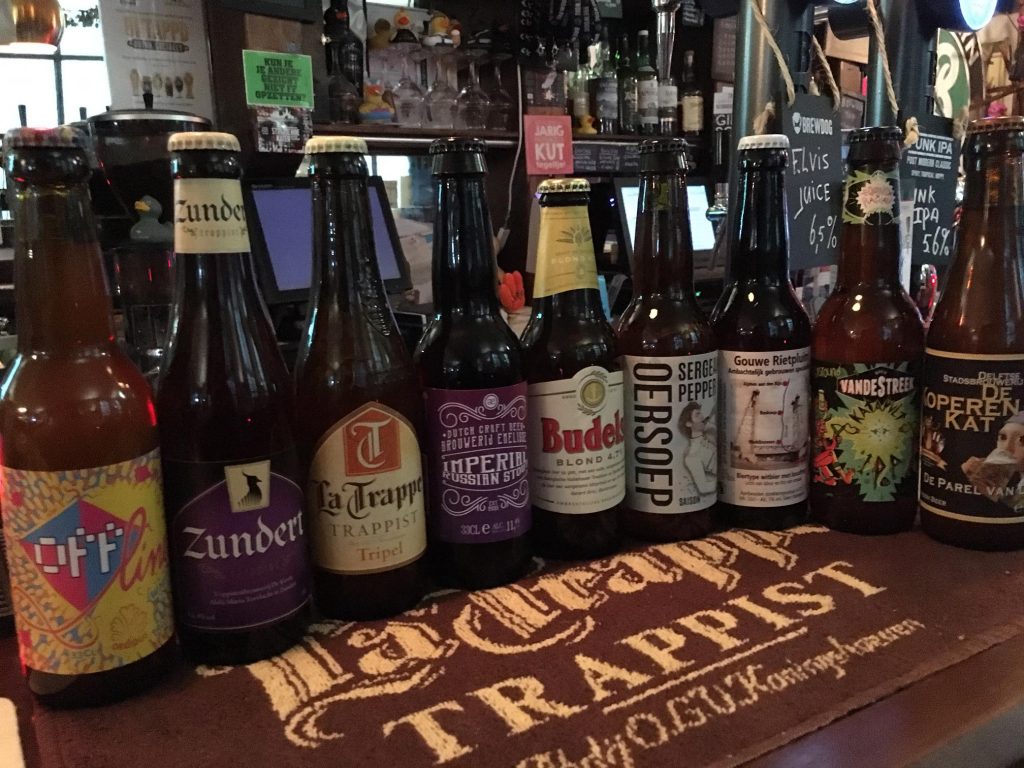 Onze bieren
In een biercafé ligt de focus natuurlijk op bier. In de afgelopen jaren zijn heel veel nieuwe brouwerijen ontstaan. Zowel in Nederland als in de landen om ons heen komen steeds nieuwe smaken bier op de markt. In De Goudse Eend proberen wij altijd deze nieuwe bieren in de selectie op te nemen. Daarnaast houden wij ook altijd een oog voor de klassiekers. De altijd wisselende bierkaart bestaat uit een selectie van ruim 180 bieren. Bieren van alle stijlen zijn vertegenwoordigd in ons café. Voor elke smaak is er een bier te vinden. We helpen je graag om een keus uit de selectie te maken.
Alliantie van Biertapperijen
Vanaf maart 2016 is De Goudse Eend lid van de Alliantie van Biertapperijen. De A.B.T. is sinds 1986 opgericht om de kennis, kwaliteit en kunde van schenken van speciaalbier een grotere bekendheid te geven en naar een hoger niveau te brengen. De leden van de A.B.T. zijn stuk voor stuk erkend om de kwaliteit van het café. Vele leden zijn al jaren te vinden in de café top 100. Hoewel de A.B.T. een landelijke dekking heeft, waren tot nu toe geen leden in het Groene Hart te vinden, daar brengt het lid worden van De Goudse Eend een verandering in.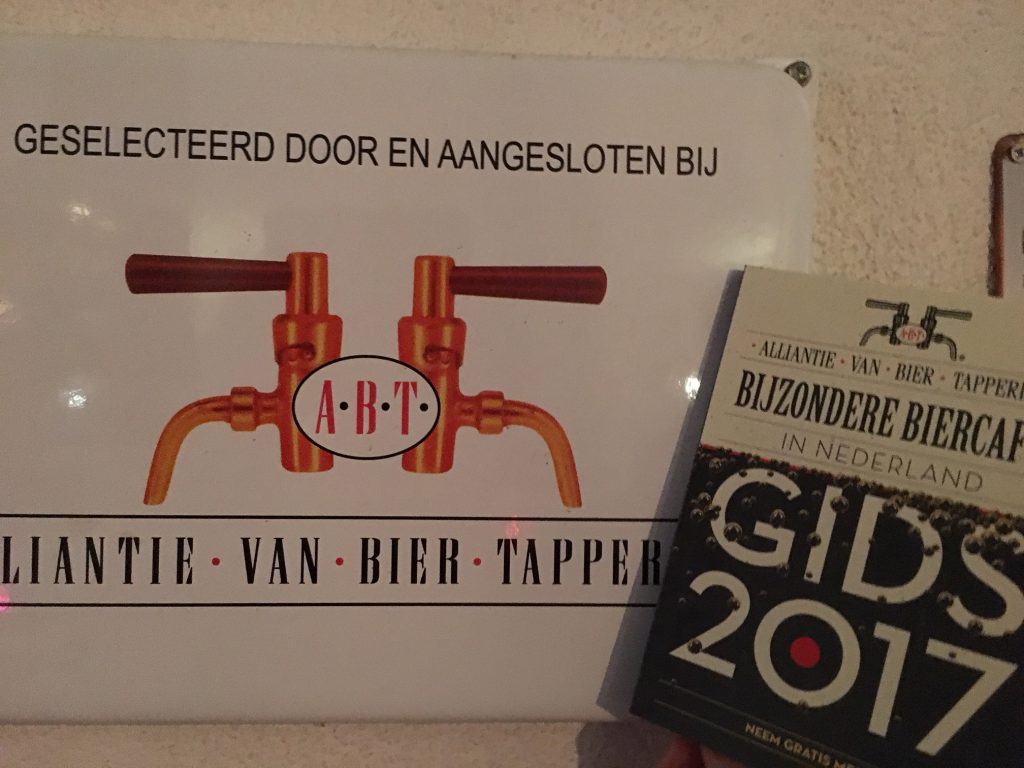 Brewdog Dealer
Sinds maart 2017 is De Goudse Eend officieel approved Dog Dealer. Dit houdt in dat In de Goudse Eend diverse bieren van de Schotse Brouwerij Brewdog van tap en fles verkrijgbaar zijn. Er is altijd een exclusief Brewdog-bier op een van de taps te vinden. Dit bier is alleen verkrijgbaar bij de approved Dog Dealers
Gezellig genieten
Naast de heerlijke bieren die wij serveren ontvangt u altijd een lekker hapje, deze op bier gebaseerde Tapas wordt bij ons Bapas genoemd. Bier-tapas. De hapje is vaak gemaakt met bier als ingrediënt. Wilt u een keer geen bier drinken, dat kan! we hebben een grote selectie aan frisdranken, warme en koude dranken en een grote selectie Whisky. Of u nu alleen komt voor de bieren, of met groot gezelschap, bij De Goudse Eend is het altijd Gezellig Genieten van Goed Bier. Proeverijen, feesten of presentaties, alles is mogelijk. Neem even contact met ons op en we organiseren in goed overleg uw festijn!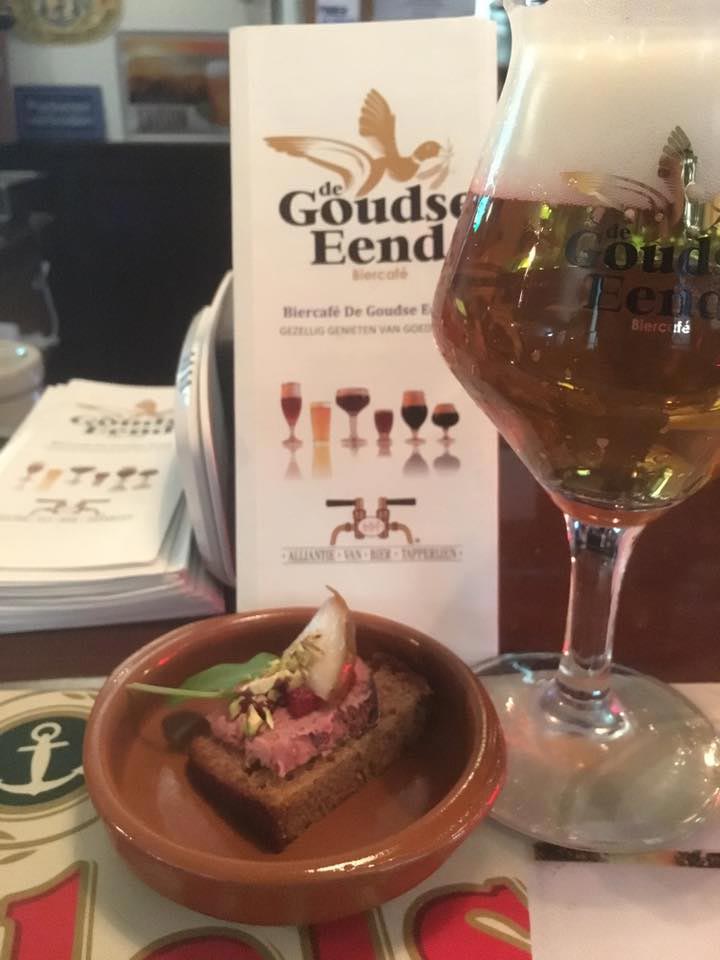 [fts_twitter twitter_name=degoudseeend tweets_count=6 cover_photo=no stats_bar=no show_retweets=no show_replies=no]
Openingstijden
| | |
| --- | --- |
| Maandag | Gesloten |
| Dinsdag | 14:00 – 22:00 |
| Woensdag | 14:00 – 22:00 |
| Donderdag | 14:00 – 22:00 |
| Vrijdag | 14:00 – 01:00 |
| Zaterdag | 14:00 – 01:00 |
| Zondag | 14:00 – 20:00 |